Planning for a vacation can be stressful. And when you begin considering how your vacation plans impact the environment, vacationing becomes even more challenging.
Getting away doesn't have to hurt your wallet or the environment. By making small changes to your packing and traveling process, you can prevent wasteful last-minute purchases and lessen your footprint on your next leisure trip away from home.
We've defined some sustainability terms and included a few practical tips to help you travel greener…
What do these commonly used sustainability terms mean?
Sustainability terms can become empty buzzwords without clear definitions. To help, we've included a list of terms that companies often use to describe their products or services:
Carbon footprint: According to the world's largest and most trusted provider of business sustainability ratings, EcoVadis, a carbon footprint is the "amount of greenhouse gas emissions created by the activities of an entity, such as a business, organization or individual."
Cruelty-free: According to PETA, cruelty-free is when "a company or brand has taken the position that it won't allow any tests on animals, including in its supply chain, for any reason – and its products are vegan."
Upcycle: Often mistaken for meaning the same as recycling, upcycling is reusing a product to create a product of higher quality or value than the original product.
Zero waste: Zero waste goes beyond recycling and waste management practices. It promotes using natural resources as long as possible before responsibly disposing of them with little to no environmental impact.
How can you make sustainable vacationing choices? Start with packing differently.
Packing greener starts with planning to reduce, reuse and recycle. Here are a few practical tips to help you think greener while packing…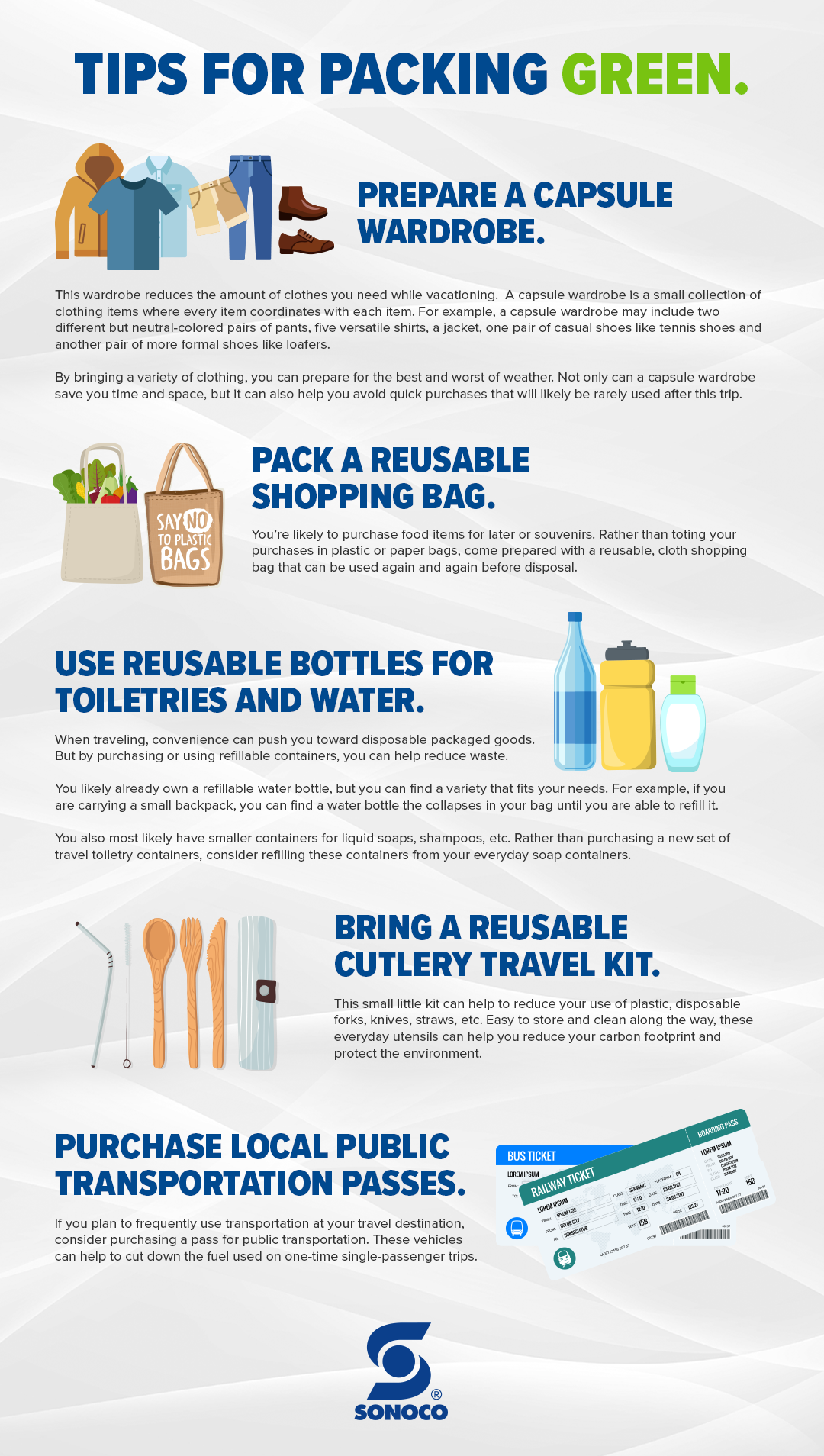 Vacationing should be a guilt-free experience. By understanding how your purchases impact the environment and packing greener, we hope your next trip not only helps you feel good but do good too.
To learn more about how we prioritize sustainability at Sonoco, click here!