Canned Food
A Reliable Partner for Steel Food Cans
Work with a leading supplier of two- and three-piece steel food cans suited for everything from pineapples and pinto beans to canned tuna and evaporated milk. 
Steel Food Packaging
Superior Protection for Canned Food
For 124 years, Sonoco has provided high-performance packaging for consumer and industrial goods. Our two- and three-piece steel food cans are:
Sustainable — Sonoco's steel food cans are 100% recyclable and can be recycled infinitely, providing sustainable packaging today and tomorrow.
Versatile in Size — Sonoco provides industry-standard diameters from 202 to 603 to meet your brand's needs for standard packs and promotional opportunities.  
Readily Available — Our cans are manufactured in 12 world-class facilities across the United States, allowing for fast turnaround and assurance of supply when our customers need it most. 
High Quality — Prior to shipping, we conduct rigorous quality inspections and pressure testing on every can to ensure the highest standards. This meticulous process helps us deliver superior products with limited downtime.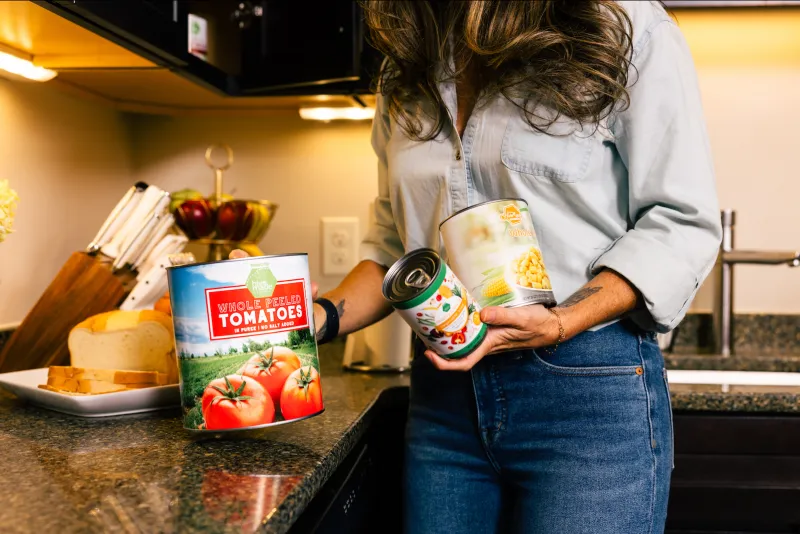 Metal Packaging
Connect With Sonoco
From peaches to powdered milk to canned chili, learn more about Sonoco's metal packaging options. We're eager to discuss how we can help you meet consumer demands and your business goals.