EnviroFlex® PCR
A portfolio of films containing post-consumer-recycled PE and PET resulting from both mechanical and advanced recycling processes. EnviroFlex® PCR can be added to both recyclable and non-recyclable structures and is designed as a drop-in replacement to films made from virgin material.
Barrier Properties
EnviroFlex® PCR is a portfolio of solutions containing post consumer recycled materials for many applications, from mono-material PET and PE to complex, multilayer structures.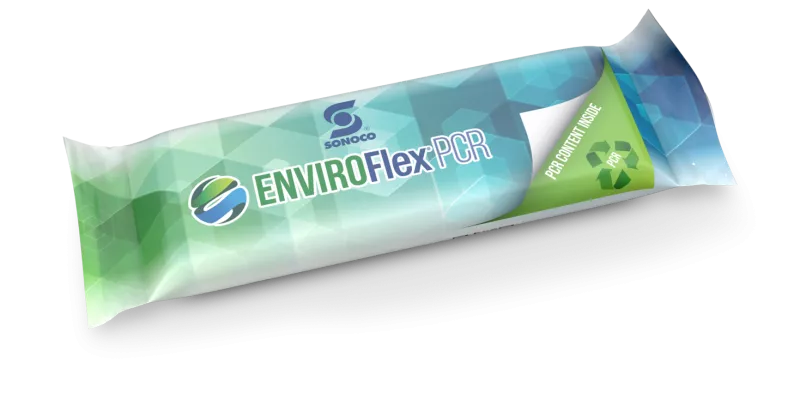 Drop-In Solution
We offer EnviroFlex® PCR with format and application variety so that making a change to improve your sustainable package profile can be a smooth and seamless transition. From rollstock for flow wraps or vertical form-fill-seal to pre-made hot fill, retort, or stand-up pouches, we work to find solutions most compatible with your existing assets.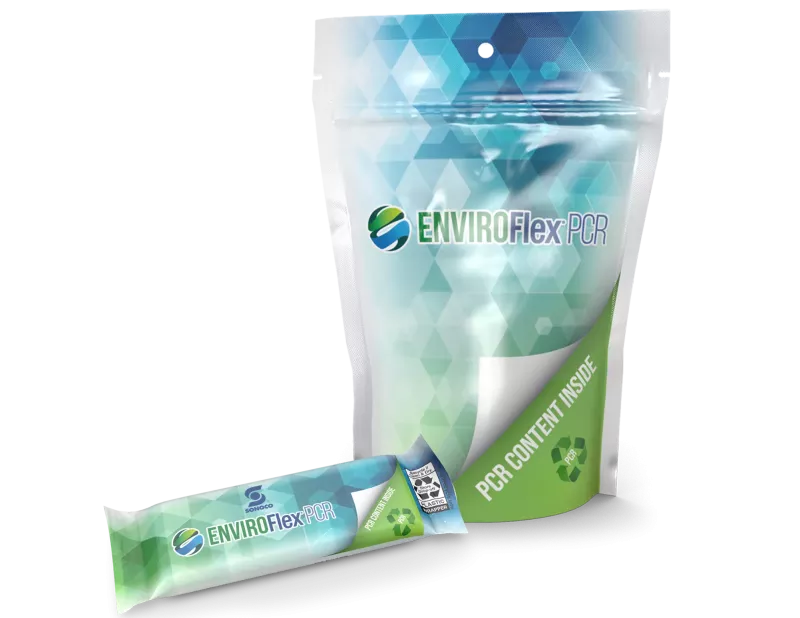 Printing
Sonoco offers standard and advanced flexographic as well as rotogravure printing for high-speed, high-quality output. For cost-effective, efficient printing, even when runs are smaller, we specialize in pre-press services and combo printing to make the most out of every impression.
Learn more: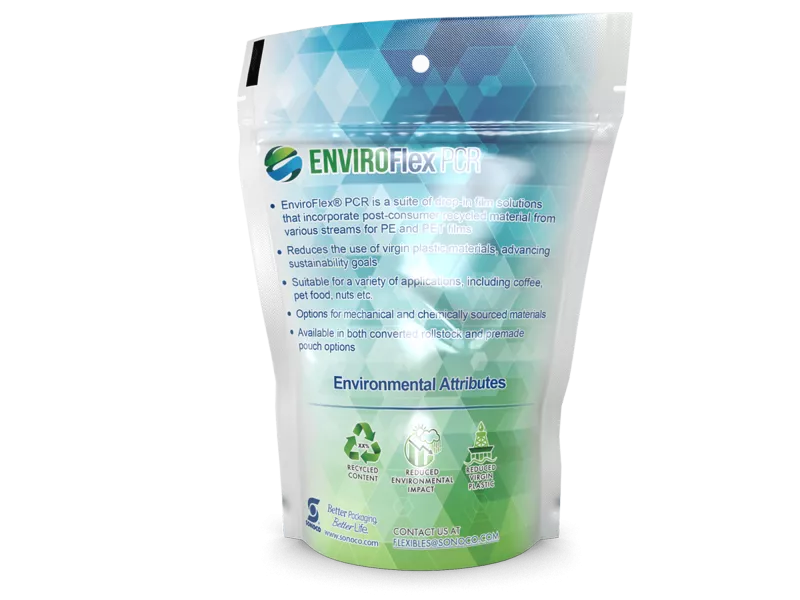 EnviroFlex® PE
EnviroFlex® PE, is available as a pouch or rollstock and provides the durability and processability expected from polyethylene in a store drop-off recyclable structure
Engineered to be a mono-material lamination, EnviroFlex PE has been pre-qualified in North America to carry the "store drop off / plastic" How2Recycle® label indicating ease of recyclability (where available).
Ideal for a wide range of foods including confections, snacks, dry or dehydrated
Flow wrap options for single serve snacks, personal care, baby and household items
Available as a premade pouch or rollstock, with or without barrier
Runs on both vertical and horizontal form-fill-seal machines
Cold seal structures available in metallized, clear or high barrier film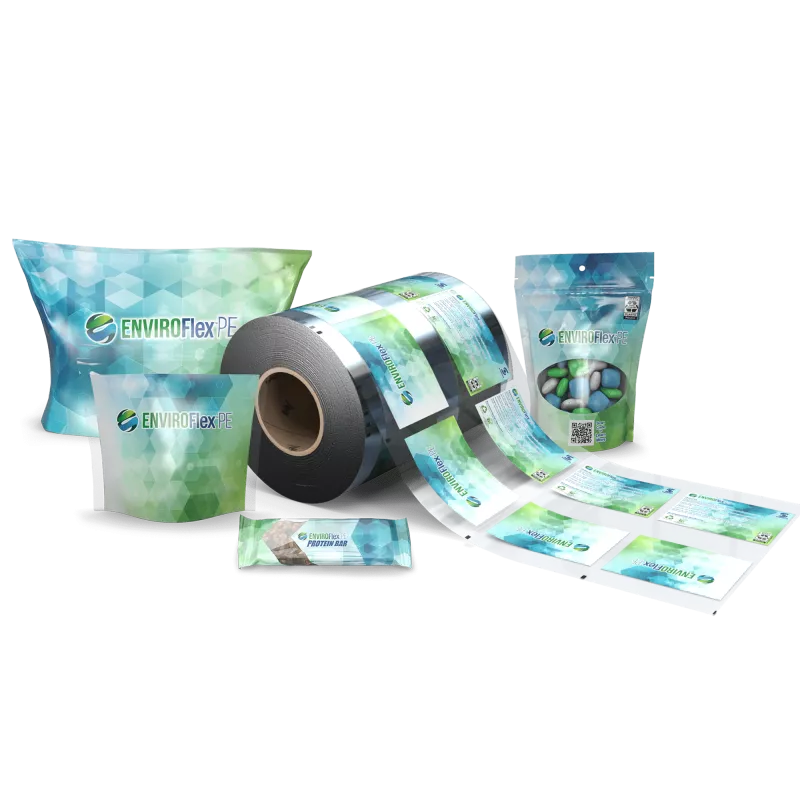 EnviroFlex® Paper
EnviroFlex® Paper provides a flexible packaging alternative made primarily of paper that was designed for recycling. Available with barrier properties and in various weights, EnviroFlex® Paper is ideal for packaging formats such as flow wrap, sachets and pillow bags. 
EnviroFlex® Paper has been pre-qualified in North America to carry the "widely recycled" How2Recycle® label indicating curbside recyclability (where available).  
Suitable for various food and non-food applications including: cookies, crackers, snacks, confections, dry/dehydrated foods & mixes, pet treats, personal care items and more 
Advances sustainability goals with significant plastic reduction and curbside recyclability 
Barrier solutions available and made without chemicals of concern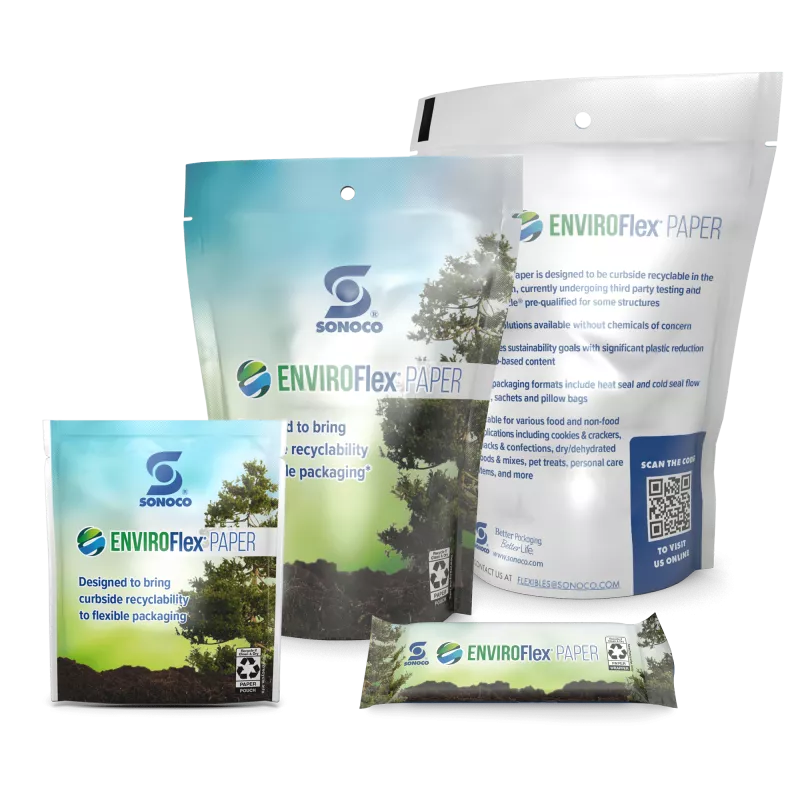 Connecting Insights to Innovation
Markets That Can Benefit from EnviroFlex®
EnviroFlex® PCR
How Can We Help You?