Cleaning Sprays
Aerosol Spray Packaging for Cleaning Products
From homes to offices to auto dealerships, Sonoco's steel aerosol cans are ideal for disinfectant sprays and other cleaning products.
Keep Surfaces Clean With Efficient Aerosol Sprays
Sonoco's lightweight and durable two- and three-piece steel aerosol cans are ideal for cleaning sprays, from wood cleaner to air freshener. 
Sonoco's steel aerosol cans are durable, resisting damage while protecting the product inside with a hermetic seal.
Sonoco's steel aerosol cans are 100% recyclable and can be recycled infinitely.
Sonoco's ability to provide a variety of stock can sizes ranging from 202 to 300 diameter is advantageous for brands with specific packaging requirements. This range allows for flexibility in selecting the appropriate can size to accommodate different product volumes and formulations.
We have state-of-the-art lithography printing, producing high-impact graphics with superior print registration quality for maximum retail shelf impact.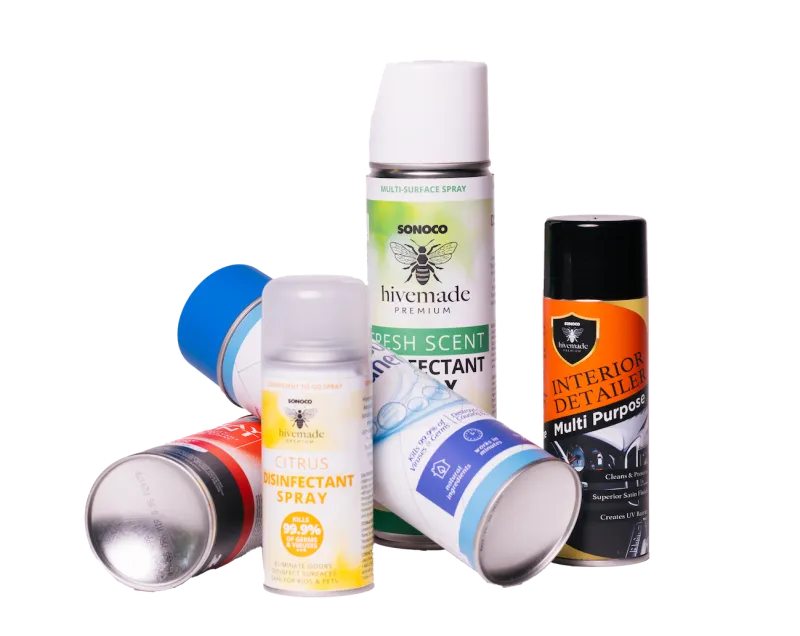 Aerosol Cleaning Spray Markets
Household Cleaning Products
Household Cleaning Products
Sonoco's lightweight and durable two- and three-piece steel aerosol cans are an excellent choice for packaging household cleaning supplies. The advantages of these cans extend beyond contactless dispensing, providing additional benefits for both brands and consumers.
The ability to dispense the product without contact is a key feature that ensures user hygiene and convenience. This is especially important in the context of household cleaning supplies, where maintaining cleanliness and preventing spread of germs is essential.
Disinfectant Spray
Disinfectant Spray
By using disinfectant sprays packaged in Sonoco's steel aerosol cans, consumers can limit their direct contact with potentially contaminated surfaces. The aerosol spray allows for a convenient and controlled application, reducing the need for physical contact with the surfaces being treated. This feature is particularly beneficial when disinfecting high-touch areas such as countertops, doorknobs or office equipment, where the risk of exposure to harmful germs is higher.
Car Cleaner
Car Cleaner
Sonoco offers two- and three-piece steel aerosol cans that are lightweight and durable for car cleaner products used to enhance and cleanse automobile surfaces. These aerosols for Automotive Care and Industrial Products such as lubricants and adhesives, provide a safe, easy and convenient method to dispense the product onto interior surfaces and provide unique applications for exterior cleaning.
Expertise in Aerosol Can Manufacturing
Our steel aerosol cans are manufactured to the highest standards in our world-class manufacturing facilities across the United States, passing rigorous testing to ensure the product is protected throughout the supply chain.  
Located in Ohio, our Centers of Excellence house an extensive laboratory network, supported by highly skilled research and development experts and technical teams. These invaluable assets keep us at the forefront of innovation, allowing us to efficiently serve our partners with the latest industry advancements.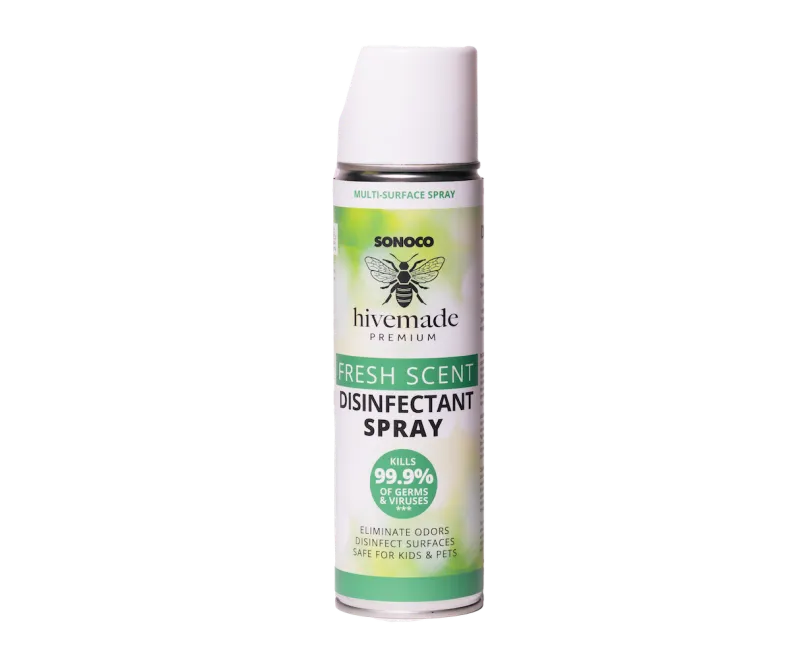 More Metal Packaging Markets
Metal Packaging
Connect With Sonoco
Learn more about our aerosol can solutions and find out how we can help you meet consumer demands and your business goals.